Insurance companies often struggle to do everything by themselves. They find themselves overwhelmed with simply day to day tasks. These tasks include checking coverage, verifying policy information, etc. Insurance BPO services takes care of these processes with unmatched speed and efficiency.
Outsourcing these processes to insurance BPOs gives them more headspace to focus on growing their company. They also make steadfast financial gains with reduced employee and infrastructural costs.
Insurance business process outsourcing are also essential because it gives you both flexibility and scalability. You can easily expand or shrink the size of operations depending on the market conditions.
10 Reasons Why Your Business Needs Insurance BPO Services
The services that insurance BPOs provide open up a number of opportunities; Lets take a look at the most important ones:
1. Policy Holder Services
Insurance BPO services help insurance providers to address all their policy holder needs in a timely and effective manner. These needs include the answering the policy concerns of a customer, making corrections to the policy, etc. Insurance BPO's policy holder services ensures that redressal happens on time.
In short, insurance outsourcing companies helps insurance companies to address their customers' needs promptly. This inevitably leads to better customer satisfaction.
2. Smooth FNOL and Claims Processing
A less than smooth FNOL (First notice of Loss) process is a deal breaker for many insurance policy holders. It's not hard to imagine why. The last thing people calling up to report a loss would want is long holds. They do not want to talk to several different agents about the same issue for sure.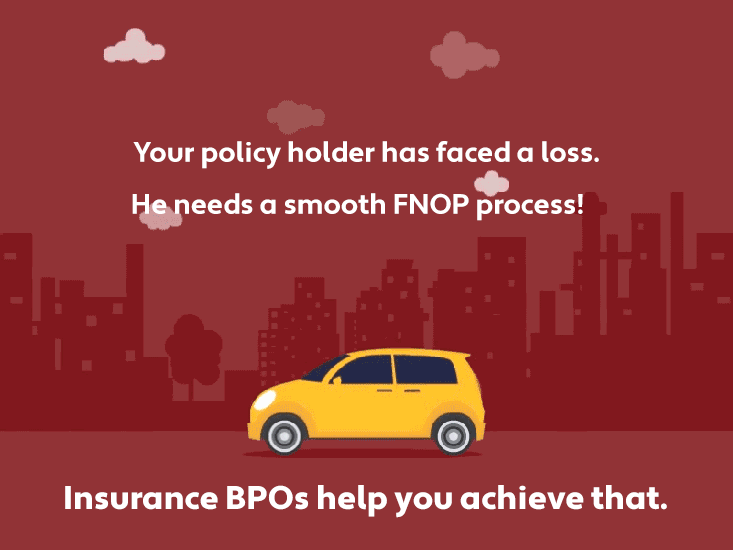 Insurance BPO services helps improve customer experience. Their expertise will guarantee that each claim starts on a good note. This agents of the insurance BPO are trained to deal with the situation fast and efficiently.
3. Billing and Account Receivables Support
Insurance BPO services are a huge help when it comes to the payment collections and other billing related functions. They have teams of experts to do tasks to manage your billing process efficient and accurately. This includes maintaining receipts, generating invoices, sending periodic statements to the policy holders.
Insurance outsourcing companies assist you to maintain a healthy cashflow. They help you in the premium collection process through many tasks. These tasks include sending payment reminders to the customers, recording the payments, generating account receivable reports etc.
4. Automated Document Processing
Processing documents manually take up a lot of resources and time. Further, in the current hybrid work model, working with manual documents become impossible.
Insurance BPOs services include end to end document scanning, filling, and indexing. This eases the process of document maintenance. The time you will need to retrieve and process documents will come down dramatically too. Insurance outsourcing companies will also do their best to ensure total compliance, data security and data integrity.
5. Policy Checking and Underwriting Support
Insurance BPO services helps your underwriters to be more efficient at their job. They take care of several tasks that help your underwriters to issue timely and error-free policies.
Insurance outsourcing companies gives you access to teams that have a lot of experience in policy checking. They meticulously check the policies to authenticate important details like coverage and status. The back-office experts will also look for wrong or inadequate information, or errors in the policy.
6. Setting Up of New Business
Starting a new insurance business can be very daunting. This is because there are many regulations in it. Insurance BPO services minimizes the overall time you will need in the setting up of a new insurance business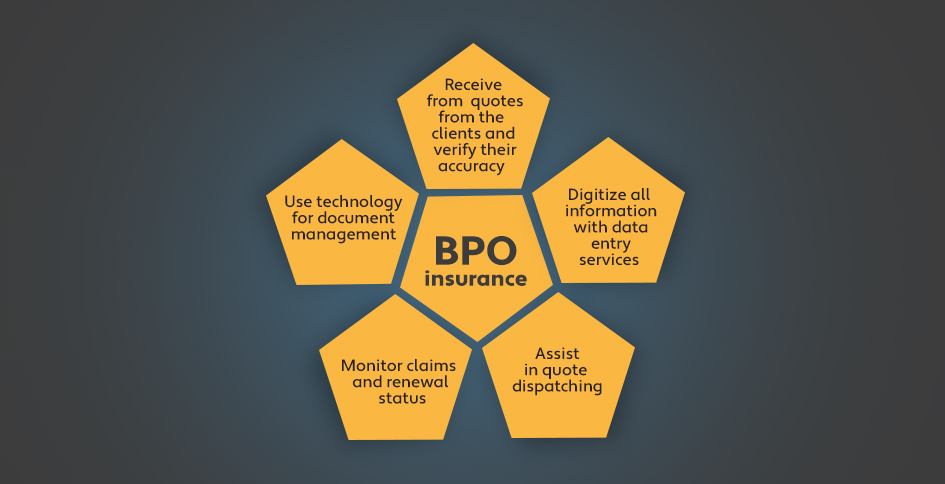 BPO insurance have the necessary technology and knowledge of best practices of the industry. This helps you to cut-out the process inefficiencies. This gives your new business a great competitive edge.
7. Loss Run Report Processing
Insurance providers often struggle with procuring loss run reports. This is due to multiple reasons. First of all, it is a very manual process. This process gets even more difficult if the insurance holder has had policies from different carriers.
Second, you have to sometimes send more than one request to the carrier to obtain loss run reports. This is because such requests missing often.
Insurance BPO services are a great help when it comes to loss run reports. They have streamlined process to obtain loss run reports. Their team takes charge of tasks such as
Sending loss run requests to carriers.
Extracting loss run data at the time of policy renewal.
Analysing and reviewing loss run reports.
8. Making Business More Flexible and Scalable
When insurers are looking to launch new products, hiring more in-house employees may not be the best strategy. It will increase your spendings greatly. That too in a situation, where you do not know if the product will be successful or not.
Insurance BPO services prove to be very useful in such situations. They fulfil the various back-office needs you have efficiently. This saves from having to make long-term infrastructural and employee costs.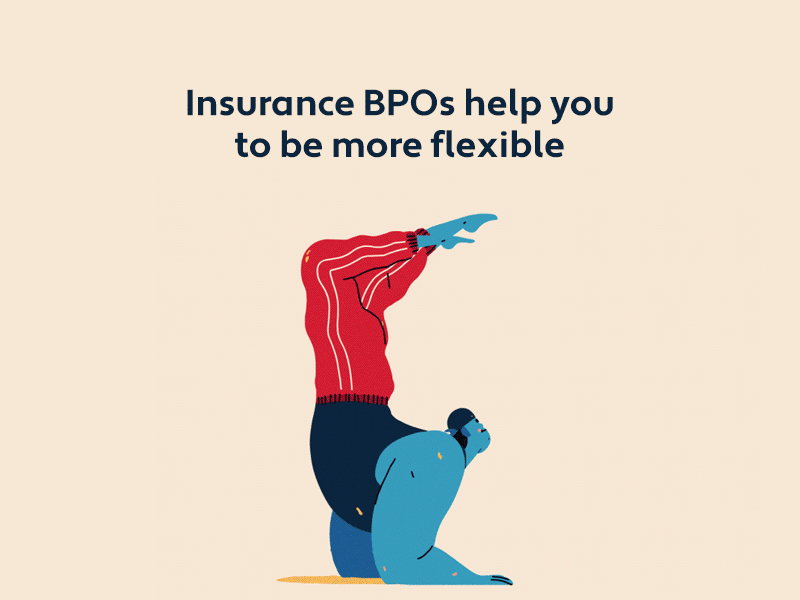 Further, BPO insurance helps you to adapt to changing regulations, competitive landscape, business environments, etc. You can easily change the scale of their services to meet the demands of the situation.
9. Focusing On Your Core Objectives
Insurance providers who do all their administrative and basic tasks in-house are missing out on the opportunity to focus on their core competencies. This can hinder your growth and prevent you from keeping up with competition.
Insurance BPO services will help in making your team more productive. The outsourced team will take charge of the back-office tasks. This will give them ample room to chase the growth goals of your company.
10. Providing Access To a Bigger Talent Pool
Insurance providers often face challenges with respect to finding the right talent. The professionals are in huge demand in the industry. There is also competition among the insurance players to hire the best talent.
Insurance BPO services enables you to hire talented people across the world. For instance, you are unable to find an experienced staff to handle the claims. Your BPO insurance partner will hire people experienced in the same from another part of the globe.
How We Assist You with Our Insurance BPO Services
Our insurances business process outsourcing solutions are well known in the industry. It has helped several players cut down their operational costs, and become more profitable. We specialise in providing tailor-made solutions to insurance providers. These solutions help to streamline the different business process and minimize all process inefficiencies.
We provide BPO insurance services to carriers, agencies, and agents. Our team of trained and experienced experts take care of the all the back-end tasks of insurance with great speed and accuracy. This has helped many an insurance providers launch new products and policies with great ease and lower-time-to-market.
As an ISO and Accord certified BPO insurance partner, we bring great reliability to the table. We ensure you that 100% data security and confidentiality. We also, guarantee total compliance with the latest regulations of the industry. The insurance BPO services we provide will help you boost your customer satisfaction. Our 24×7 operations, across 8 delivery locations, allows us to serve your customers with swiftness and efficiency.
Who We Are and What Makes Us Industry Experts
This article is written by the experts at Insurance Back Office Pro. We have several years of experience in providing back-office support to insurance providers of all sizes. Our services include document indexing and filing, loss run processing, claims administration, bookkeeping and forensic accounting, etc.