Insurance companies face several challenges to sustain their business in a competitive world. These include issues like staff shortage, heavy competition, regular changes in rules and regulations etc. As a result, they must work overtime to ensure faster turnover ratios, compliance with State and Federal regulations and at the same time come up with innovative products to outflank competitors.
Insurance business process outsourcing services have, in many ways, evolved as a lifeline for insurers. It takes care of several back-office tasks which are time-taking and robs the front office staff on focussing on work that is more productive and result yielding. Some of these tasks include verifying prospect documents, managing agent commission or obtaining loss run reports from other insurance providers etc.
6 Ways in Which Insurance Business Process Outsourcing Services Help Insurance Providers
1. Lower Employee Costs
Insurance business process outsourcing services help insurance carriers and agents cut down their employee costs significantly. This is because the cost of labour isn't as expensive in offshore BPOs as in developed countries.
Also, doing all the insurance related tasks in-house is more costly. You have to invest in office space, equipment and spend money towards employee benefits. But when you take the help of Insurance BPO services, you need not pay as much, as the insurance BPO provider will be obligated to pay for all these expenses contractually.
2. Concentrate on Core Competencies
Another primary benefit of insurance business process outsourcing is that allows you to focus un-dividedly on growing your business, while the insurance BPO provider takes care of all day-to-day operations. Your experienced in-house team can then be involved in more strategic tasks such as launching new products, improving customer experience etc.
3. Faster Turnaround Times
As an insurance business owner, you know the importance of being able to serve your customers quickly. In this age of competition, a slight delay in say issuing the final policy can cost you the customer and he/she might turn to your rival for obtaining coverage.
Insurance business process outsourcing with their time zone advantage and 24×7 services help you fasten your turnaround time and provider better service to your customers.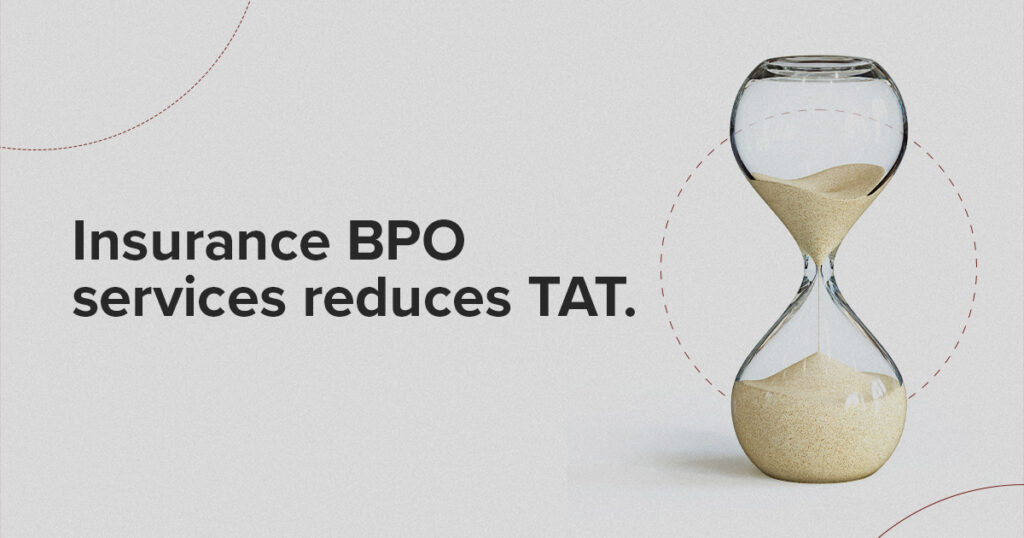 4. Less Liability
Insurance companies often have to shell out huge amounts of money due to E&O exposure. Mistakes like wrong coverage details in the policy can result in the customer facing a huge amount of inconvenience and him/her suing the insurance provider.
The best part about insurance business process outsourcing is that your BPO partner will take responsibility for the work their staff does. This reduces your liability exposure.
5. Skilled Staff
Insurance providers often find it difficult to find professionals with the right match of skills and experience to do various insurance related back-office jobs. Even if they, retaining them proves to be a struggle as there is always another company that is willing to pay more money to them.
Insurance business process outsourcing ervices gives you access to professionals who have several years of experience under their belt. There is no fear of staff shortage either because your insurance BPO always have a steady pool of experts, or can train someone for the job easily.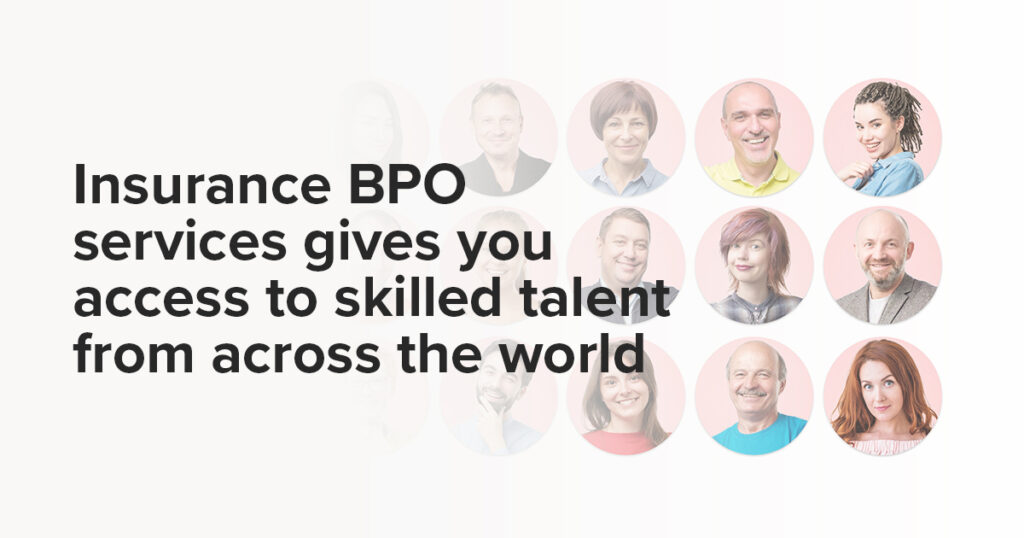 6. Easy Scalability
Certain circumstances, like the recent pandemic or a natural disaster results in more people interested in obtaining insurance coverage. However, it's is not profitable to have extra staff on stand-by just to meet this surge in demand.
Insurance business process services are highly scalable. You can increase or decrease the number of people working for you as the demand for your products rises and falls. Thus, you can meet the additional demand without having to make any fixed investment.
How We Assist You with Our Insurance Business Process Outsourcing Services
We have years of experience in assisting insurance carries, agencies, and MGA's in becoming more profitable and providing better service to their clients. We have an army of experts to help you in tasks related to claims administrations, policy checking, renewal processing, etc.
To make sure that your clients are happy with your service, we leverage well-defined processes that simplifies the workflow and results in faster turnaround times. Also, we ensure higher accuracy, given our stringent multi-level quality checking process.
Our cutting-edge technology is well known in the industry. It has helped several insurance providers to work more efficiently and at the same time make more savings.
The professionals we hire to work for your company are among the best in the industry. They have several years of experience in domains like loss runs processing, claim processing, bookkeeping and forensic accounting.
Who We Are and What Makes Us Industry Experts
This article is penned down by the experts at Insurance Back Office Pro. Our insurance business process outsourcing services has helped several insurance providers achieve more operational efficiency.
Some of our insurance BPO services include Certificate of Insurance (COI) Services, document indexing and filing, policy checking and administration, Insurance agency management, renewals processing, prospect and market research, endorsement and certificates, book-keeping and forensic accounting.