New technologies have disrupted the global insurance industry like never before. The rapid adoption of digital technologies has immensely helped insurance companies simplify critical processes related to policy issuance, claims management, and renewals processing.
At the same time, offshore insurance BPO companies have upskilled themselves and developed a deep understanding of the regulatory and quality requirements related to insurance processes. Along with developing deep domain expertise, they have developed scalable models that equip them to handle insurance BPO services at a massive scale. All these developments indicate a trend that insurance business process outsourcing services are going to play a crucial role in augmenting the growth of the insurance industry by 2025. Let us understand this in greater detail.
Reasons Why Insurance BPO Services Will Be In Demand by 2025:

Structural Challenges Facing the Insurance Industry: The insurance industry is witnessing structural challenges that are likely to impact their cost structures. For example, a low-interest environment has hit life insurance carriers so hard that many are even struggling to meet their cost of capital. Other challenges include increased transparency in prices to end customers and the growing impact of digitization. With so many growth challenges, operational excellence becomes a key lever for insurance providers to boost profitability.
Widening Gap in Cost Measures Between Top Insurance Players and Rest of the Market: The insurance industry is witnessing a vast disparity in profitability between the leading carriers and the rest of the market. While other carriers have implemented standard cost-cutting measures, there is still a massive opportunity for them to boost their performance. For example, in 2012, there was a 129% gap in operating costs among the top quartile and bottom quartile life insurance providers in Western Europe. By 2017, that gap had increased to a whopping 200%. For example, operating costs made up only 2.9% per Gross Premium Written (GPW) for top players, while for bottom players, these costs were 8.7%.
Increased Automation and Digitization: According to McKinsey's Insurance 360 benchmarking survey, there has been a considerable increase in insurance companies' IT costs. The survey captured IT costs as a percentage of total operating costs between 2012 and 2017. As per the survey, these costs increased by 24% in property and casualty insurance and by 12% in life insurance.
While large insurance carriers have the resources to invest in IT, other players cannot rely on IT alone to improve their operational performance. The same survey highlights that BPO will play an essential role in augmenting processes that are not suited for digitization. It also says that a combination of low-cost locations and economies of scale can provide up to 20% of cost savings in operations and technology for insurance companies.
Insurance BPO providers offer a mix of both low-cost locations and economies of scale, which can undoubtedly aid insurance carriers.
Impact of Scale: The differences in costs between large carriers and the rest of the market are due to various reasons. One advantage of large insurance players is that they have economies of scale. Large insurance players have taken several steps to benefit from scale in reducing their operational costs. This advantage is not available to players operating at a comparatively smaller scale. By outsourcing insurance BPO services, insurance companies with high costs can get the same scale advantages as large insurance providers.
A Mindset of Continuous Productivity: Insurance companies in the top quartile of cost savings have implemented various cost-cutting measures with a mindset of continuous improvement in productivity. Along with increasing their IT spend to improve profitability, they have also invested heavily in outsourcing and external contractors. Many of them have annual targets for cost savings.
If other insurance companies have to catch up, they too have to increase their spending on outsourcing insurance BPO services. They need to set annual cost-cutting targets, which they can discuss with providers of BPO insurance services and make them a partner in achieving their target cost savings.
Which Insurance BPO Services Can be Outsourced?
Traditionally, insurance companies outsourced only basic insurance processes in BPO to low-cost locations while they outsourced more complex operations to insurance BPO companies in the USA. However, in recent times, insurance BPO providers in low-cost locations have become as good as top insurance BPO companies when it comes to scalability, quality, efficiency, and cost savings.
Policy Issuance: BPO services for insurance includes the complete suite of policy issuance services. Right from reviewing policy documents and matching them with the records provided by insurers to create a final insurance contract, insurance BPO services can handle it all. Policy issuance services entail all insurable objects, including life, home, vehicles, property, etc. Insurance BPO companies employ skilled staff who are well versed with technical processes of policy issuance, such as creating terms and conditions in the insurance contract and getting them approved by carriers.
New Account Setup: In addition to setting up individual policies, insurance BPO companies can handle setting up of new business accounts. Setting up a new account starts with receiving a client quote and covers the compilation of vital information, such as employee count and payroll information. The process ends with the dispatching of quotes for client signatures. The work of insurance BPO providers doesn't end there. Once an account is set up, they are fully capable of taking care of customer administration as well as ongoing document management and indexing.
Claims Management: Since ages, insurance companies have found it challenging to settle fraudulent claims. These challenges became even more acute with an influx of insurance claims requests due to COVID-19. Insurance BPO companies have dedicated teams that can handle all aspects of claims management in scalable and flexible ways. BPO service providers for insurance employ skilled staff who are thoroughly trained in investigating claims. Their comprehensive services include verification of policy information, determining coverages, verifying liability amounts, etc. In addition to employing skilled staff, insurance BPO companies also use advanced machine learning technologies, which help them flag fraudulent claims.
Processing of Renewals: As part of their range of BPO insurance services, insurance BPO companies also handle insurance renewal processing. By outsourcing their renewal processing services, insurance companies can be assured of high-end services, complete security of data, and thorough adherence to compliance. Insurance BPO providers have put systems in place that start sending renewal reminders in advance. Furthermore, they have the latest technology, which helps them keep track of all changes in an insurance policy on an ongoing basis. All changes are documented thoroughly, thus minimizing the effort at the time of renewal.
Policy Administration: Performing quality checks on policies is a major hassle for insurance providers. Insurance BPO companies provide complete back office support for checking insurance policies. Their services include finding errors and collecting missing data from customers. As a result, this eases the underwriters' load, thus freeing up their time to perform more complex tasks. Their end-to-end policy checking process includes performing quality checks at all policy issuance stages, starting from receiving the policy document from the carrier to dispatching a thoroughly checked policy to the end customer.
Loss Run Reports: These reports play a crucial role for insurance companies, especially at the time of renewal. Data required for loss run reports can vary from up to 5 years to the entire length of insurance coverage. This data helps insurance companies in setting the right premium and also selling the right policies to customers. Insurance BPO companies provide all the data required in loss run reports and provide analytical support to derive intelligent insights from these reports to enable informed decision making.
Benefits of Outsourcing Insurance BPO Services: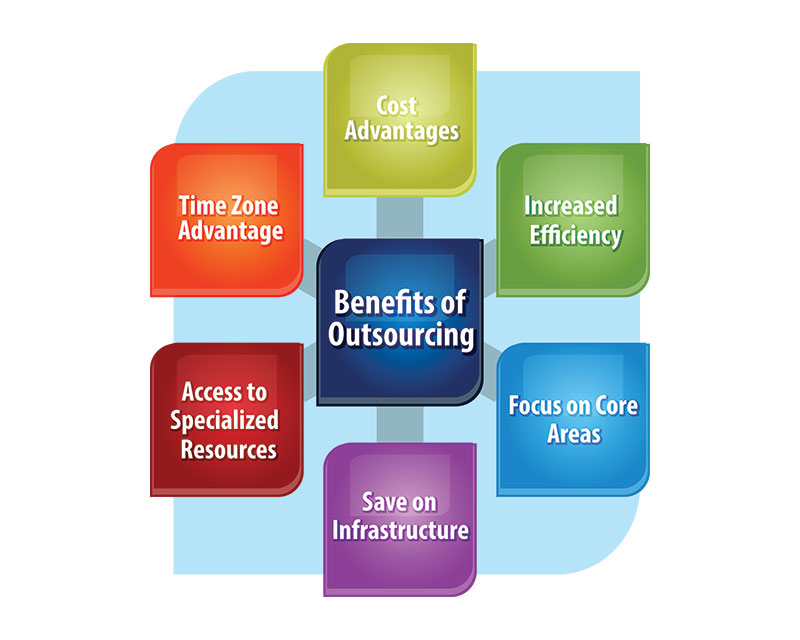 Cost Savings: Managing budgets and expenditures are some of the main challenges in the insurance industry. Outsourcing insurance BPO services help insurance providers control costs by reducing their fixed costs and getting their jobs done in a shorter time. Moreover, insurance BPO companies offer a special pricing model, in which insurance companies have to pay only for hours worked. Also, the workspace required for in-house staff is reduced, hence saving real estate costs too.
Improved Efficiency: Outsourcing the non-core but mandatory work to a BPO company improves insurance companies' efficiency to perform their core operations more efficiently. Moreover, instead of limited internal staff performing insurance activities, outsourcing allows a skilled workforce to handle the insurance process.
Lower Error Rates: Because of a highly skilled workforce, insurance BPO companies reduce the error rate in the insurance backend processes. The reduction in errors results in higher accuracy, reduced costs, and increased time savings for insurance providers, thus contributing to their business development.
Scalability: BPO service providers for insurance have hiring and team management systems that allow them to scale their teams to meet a surge in demand rapidly. For example, in the recent COVID19 crisis, onshore teams struggled to meet the high demand for insurance claims. In addition to a surge in demand, they received a double whammy of short supply of staff due to lockdowns in various places. In such a critical time, insurance BPO companies moved seamlessly to a remote working model, thus ensuring no disruption of work to insurance companies. They were also able to add capacity for insurance companies requiring additional support quickly. This is one of the key reasons why many insurance companies look for an insurance BPO provider for their business.
Fosters Innovation: BPO enables insurance companies to free up their time and resources to develop their business. For example, insurance companies can grow and usher into new markets and create innovative products and services. Insurance BPO services help insurance companies to cope with the dynamically evolving market.
Increased Customer Satisfaction: Reduced backlogs and improved processing times helps customers get better insurance services, such as a faster settlement of claims, detailed information check to avoid denials at a later stage, etc. This improves the overall experience and satisfaction of insurers.
Enhanced Security: With the adoption of digital technologies and adhering to regulatory measures like HIPAA compliance, insurance BPO providers prevent data breaches and customer data loss.
Conclusion:
To conclude, by 2025, insurance BPO providers can potentially create a sizeable impact on the growth of the global insurance industry. Today, the insurance industry is struggling for growth and is seeing substantial competition in achieving operational excellence at lower costs. By outsourcing insurance BPO services, they can improve their operational standards and offer a superior experience to their end customers. Outsourcing of insurance BPO services can also help in narrowing the cost efficiency gap between the large insurers and the rest of the industry. Besides, outsourcing will also free up valuable time to think about innovative insurance solutions in the post-COVID-19 world.
What Makes Insurance Back Office Pro a Reliable Outsourcing Partner for Insurance Companies?
Insurance Back Office Pro has more than 8 years of experience in providing back-office support to insurance carriers and agencies worldwide. By outsourcing their insurance BPO services to Insurance Back Office Pro, insurance companies have realized substantial cost savings while seeing a marked improvement in their productivity.
Having put stringent systems in place for data security, Insurance Back Office Pro offers complete peace of mind to insurance providers. The team at Insurance Back Office Pro is skilled at handling all major insurance verticals, such as life insurance, motor insurance, health insurance, and employee benefits. A combination of fast turnaround times, stringent quality systems, and advanced data security results in improved satisfaction of end customers of insurance companies.