Until a few months ago, the arrival of a pandemic that would affect the whole world to this staggering degree was the stuff of fiction and nightmares. Besides causing a health emergency, the COVID-19 crisis has crippled the global economy and has pushed businesses and industries to the verge of falling apart. One of the worst-hit sectors, the insurance industry, is faced with a unique set of problems brought about by the virus. Insurance companies around the world have realized that without implementing drastic changes to the way they function, recovering from the blow of the pandemic looks unlikely.
For the rest of the year 2020, the goal of the insurance industry should be to focus on ways and means by which future calamities can be prepared for. At the same time, certain immediate measures must be taken so that operations keep running without taking any hit. To this effect, new strategies are being adapted and old the ones, such as outsourcing insurance BPO services, are being explored with a new lens.
Global Challenges that Businesses are Faced with Today
Business leaders and decision-makers across industries have been wracking their brains wondering about the impact of the pandemic on the global economy. It has come down to organizations to think about their own. Planning for the future now means having a disaster management plan up one's sleeve. It's true that the pandemic would not threaten the existence of every industry, but at the same time, there is a small risk of facing acute problems in operations.
Among the industries that have been impacted the most by the pandemic is the insurance sector. With uncertainty hanging in the air, customers and prospective clients are bursting with questions. Everyone wants to know what kind of insurance coverage they have in these times. Consequently, the insurance companies are reeling under a flood of queries. All this while they are managing their daily operations with a workforce that is primarily working from home. For businesses around the world, steadying their operations for the rest of the current year is their primary concern at the moment.
Major Problems for the Insurance Companies
The primary problems that insurance carriers have been facing include an increase in claims relating to health and travel. Also, there is a considerable amount of stress in trying to bring in new business from a sales perspective. Another pressing concern is that of physical distancing, as it has made it harder to close business deals in person. This has taken out the human element from dealings, making it harder to establish trust. The slowing down of the economy has also led to a decrease in interest rates. At this time, a reduced inflow of revenue is a challenge that many insurers will find difficult to come out of.
In tandem with the previous problem, there also exists an increased risk of exposure due to defaulters. It is to be expected that many businesses will possibly become a source of credit risk. Due to this, regulatory agencies might put insurers through stringent solvency tests to gauge how far insurers will be able to deal with the impacts on their business. Overall, all of these problems have amounted to insurers being asked to jump through a lot of hoops.
Possible Solutions to Mitigate the Immediate Problems
Outsourcing back-office processes is an all-encompassing solution that has been known for quite some time now. But the relevance of outsourcing insurance BPO services has soared to new heights owing to the current tides. Other than the obvious advantages of cost savings and reduced dependency on employees, the practice of outsourcing insurance BPO services also enhances operational efficiency. Some of the benefits that insurance BPO firms can provide for better performance in the second half of 2020 are listed below.
How Outsourcing Insurance Services will help Insurers in the Second Half of 2020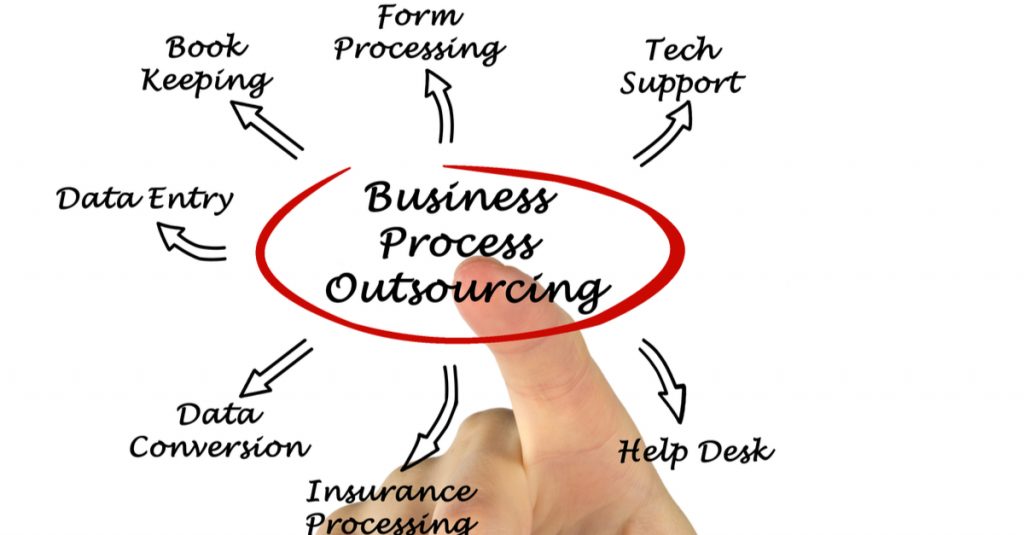 Backup workforce
The direct problem of Covid-19 impacting operations is that a large chunk of the workforce might fall ill at the same time. As the disease is known to spread by direct contact, groups of people working together have been known to fall ill simultaneously. This makes teams working on specific projects vulnerable to coming down together and thus hampering the entire project.
Companies have thus been focusing on shifting to remote workspaces. But working remotely poses some serious operational issues since not all workers can be sent home. The work-stations that employees set up at home can't facilitate optimum outcomes and provide the desired level of security to data. Home work-stations have so far been unable to meet the standards that corporate work demands. Owing to theses, rather than providing employees with the work infrastructure at home, it is wiser to delegate the vulnerable data to insurance BPO service providers and their trained staff.
In this case, the highly trained and skilled resources of insurance BPO service firms have been a boon. Such firms are experts in providing back-office support remotely, and this has quickly become the number one remedy chosen by insurance companies. Having the support of an external service provider will ensure that even with a decreased workforce, insurance companies have their operations running uninterruptedly.
Digitization and Improved Communication
The surge in customer queries is an issue with several critical implications for insurance companies. Customer service requires insurers to give due attention to customers in the most supportive way possible. Answering their queries in detail is a task that will determine if their business will thrive and the course of action they take in the future. Handling delicate matters like these is part of the expertise that insurance service firms bring to the table. Customer interaction can be upscaled by using new platforms efficiently and securely. Also, the security tools that insurance BPO service providers offer, help insurers to manage their policy-related data with more proficiency.
Another way outsourcing is helping steady the operations of insurance carriers during the ongoing COVID-19 pandemic is through automating their complex workflows. This is one technological advancement that will always remain relevant and useful for insurance companies with their bulky data requirements.
The long and resource-hungry tasks of insurance claims eligibility verification as well as claims processing can of course be outsourced to insurance BPO service providers for better outcomes. But the way in which this can be helpful for the second half of 2020 is what makes insurance partners indispensable. To streamline the efforts of the essential workforce, the bulk of these menial tasks can be delegated to the insurance partner. Faster and error-free claims processing throughput can be expected from the vendor and this will help insurance businesses to get back on their feet.
To make up for the progress that could not be made in the first half of the year, a redoubling of efforts and claims in the second half will be the target. Aiding insurance companies to achieve these is the de facto goal of the BPO service providers. The highly trained workforce of the insurance BPO providers can make claims processing a breeze by filing error free-claims.
The sophisticated tools available with the vendors combined with their well-trained staff give them a significant advantage when it comes to closing claims. Insurers that are being hard-pressed with problems in insurance claims processing can turn to such a competent insurance services vendor to pull them out of the slump.
Operational Analysis
At this point, it's even more important for insurance companies to figure out which processes have been running efficiently and where redundancies have taken hold. An in-depth analysis of the scenario can be of profound help to this end. Insurers themselves often assess the risks that natural calamities can have on the work of their clients. As of now, risk assessment and management plans have become drastically updated. So, it is important for insurers to assess how their operations are at risk and in what ways these risks can be mitigated.
Insurance BPO service providers can use analytics and automation to identify process risks, bottlenecks, and backlogs. Armed with these insights into the workings of the company, insurers will be in a commanding potion to achieve the goals that the management had mandated for the year 2020. The delay that has been caused by the pandemic can be rectified to a considerable extent. For this, the insurance companies must implement the analytics provided by the vendor into their operations.
Compliance Management
The insurance industry has always been characterized by stringent regulatory guidelines. With the pandemic causing revisions in guidelines everywhere, it is challenging to keep up with the revised versions. A misstep in this direction can cost all the work done prior to a claim to fall through. Thankfully, a reliable insurance BPO services firm with its constantly updated databases and trained staff can help make adhering to compliance much easier.
The challenging landscape of the insurance market, combined with the organization's business goals can put a lot of pressure on the client employees. Also, because of operating with a trimmed workforce, insurers will need much more support in their claims-compliance management. And this role can be deftly filled by a trusty and competent insurance services company.
Adapting Operations for the Future
While the world at large is taking every possible measure to navigate these uncertain times, insurers also need to make certain critical adaptations. There is no time like the present to start investing in the future. As insurance companies are well-aware of the need to stay in business, it is vital for them to make the necessary changes to their operations to remain prepared.
At this critical time, some of the futuristic solutions that outsourcing insurance BPO services can offer are:
Risk management strategies – The risk management strategies must be revised to ensure uninterrupted operations despite having employees working remotely for a long duration. The risk of cyber threats also needs to be kept in mind at this point. The security that stems from the use of BPOs can give insurers an upper hand in dealing with the current threats.
Adapting to the global market challenges – It is expected that external insurance BPO service providers update themselves with the latest technologies and innovations in keeping with the changing trends. Insurers can benefit from the service providers who have invested in these updates. This will, in turn, help insurers handle the market challenges efficiently.
Trend forecasting – The huge amount of data that is processed in the insurance industry can be mined and analyzed to create predictive models that give insurers an in-depth foresight into the future market trends. Instead of considering the data as a factor that burdens the organization with storage and security needs, it can be transformed into a meaningful tool. The flexibility of BPOs can be utilized to this advantage. Insurers can request tailored data analytics to create future-ready business models that will help in coming out of the ongoing economic crisis.
The way ahead for the insurance industry is paved with challenges. In these troubling times, seeking the professional help of insurance BPO service will be a big boost for insurers to make a comeback in the market. For a long time now, insurance companies have been delegating many of their services to outsourcing companies. But the current scenario has made it such that most, if not all, services need to be relegated as back-office functions so that the core competencies of the company can remain operative. Outsourcing insurance services which will help insurers establish sturdy operations that will not be impacted by any more curveballs the rest of the year might have in store.
Who We Are and Why Our Expertise Matters?
Insurance Back-office Pro is an experienced agency providing insurance back-office services and support to insurance companies. With over 10 years of serving reputed clients in the industry, we are equipped to provide first-rate services to enable insurers to meet their ambitious targets and objectives. With our support, insurance companies can bounce back into the game and re-establish themselves once the current storm subsides.